Life-Size Bronze Lion Statues Details:
This impressive pair of life-size bronze lion statues portray and shows us a pair of ferocious and serious lions. The pair of lions lay neatly on the ground and raised their heads high. Their eyes are wide open and are full of power. The hair on the head and chest is very luxuriant, as are the beards on the nose. You would be surprised by such a shocking sculpture.
Our Advantage: Using Silica Sol Process
Our life-size outdoor bronze lion statues would use the traditional lost wax method. As we all know, this is the oldest and most primitive way of casting bronze sculptures. Through the continuous improvement of our factory, we adopt the latest silica sol process, which could greatly improve the quality of sculptures. You would find that no matter how many years of use, the sculpture still has no quality problems. Therefore, with the traditional casting process, as the use time increases, white spots would appear on the surface of the sculpture, which would affect the normal use of the sculpture.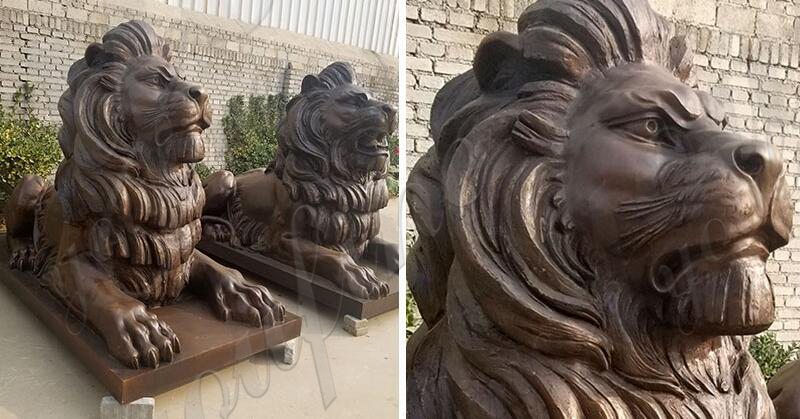 What Means of Lion Statues?
This pair of bronze lion sculptures are life-size. This size design could completely restore all the original features and details of the lion. You could clearly observe that one lion's mouth is always open while the other lion's mouth is closed. In fact, this has a special meaning. The open mouth of the lion represents fortune, while the closed mouth of the lion represents the preservation of wealth.
Where Could Lion Statues Place?
As we all know, the lion is the king of beasts and could become a qualified patron saint to guard your home. This pair of beautiful antique bronze lion statues would be very suitable to place at any home entrance, garden, porch, or any other place you wish to impress your guests. Of course, it could also place in front of outdoor parks, gardens, or office buildings.
So if you want to get detailed information about this pair of sculptures, please feel free to contact us, we would provide you with the first time.