Casting Bronze Horse Head Sculpture for Decor Detail
This Bronze Horse Head Sculpture is a common decoration for homes. Since ancient times, horses have been believed to have auspicious connotations, which is why many people like to have horse ornaments in their homes. In this picture, we can clearly see every detail of this horse head sculpture: its eyes, mouth, ears, and The mane is all very clear. This bronze horse head sculpture is made of cast bronze and our process is very precise. Therefore, the quality of our bronze sculptures is very good.
Advantages of Our Bronze Sculpture
1. Our company has the best model masters, and all have specialties in the art industry. They are good at making models of animals, people, and abstract sculptures separately.
2. After the mold is turned, the wax pattern would be modified according to the original image to avoid losing some details of the model during the mold turning.
3. The bronze sculptures produced by our factory have a high bronze content.
4. We have professional chemical coloring masters.
5. Professional packaging to ensure the safety of goods during transportation.
6. We would buy every risk for our customers for every sculpture.
7. We have a professional installation team.
Related Products
In addition to Casting Bronze Horse Heads Statue, You Fine Art Sculpture has many other bronze animal sculptures. We have customized many mermaids, lions, bears, dogs, eagles, and many more for many customers. Our master workers are highly skilled and experienced, and as a result, we have made all of our bronze animal sculptures come to life. We are confident that we could make the bronze animal sculptures that you need.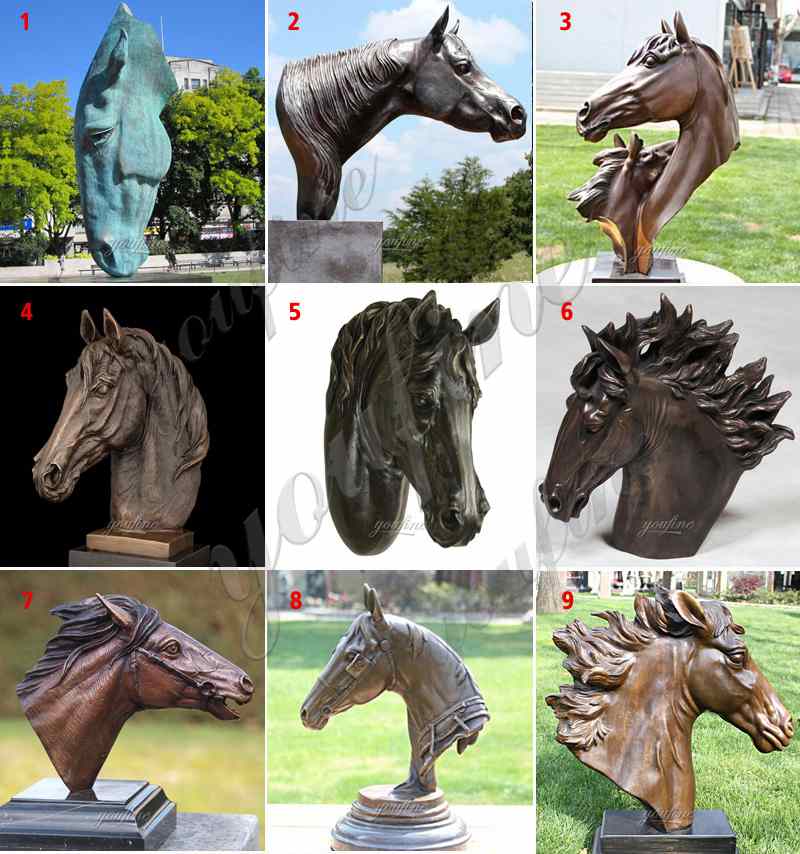 We have many other novel designs for Outdoor Bronze Horse Head Sculptures. If you have a design you like, feel free to contact us, we always have someone waiting to serve you.