Bronze Black Caviar Sculpture is on sale and You Fine Art Sculpture could provide you with the best quality products at the best prices. This sculpture is often placed in outdoor gardens, art galleries, or horse farms.
Item No: BOKK-678
Size: Height 200 cm, W 70 cm, L 320 cm
Color Bronze(another available color)
Weight : 350 kg,Cube 4.5
Place Of Origin: Hebei, China (Mainland)
Large Size Bronze Black Caviar Sculpture Detail
This Large Size Bronze Black Caviar Sculpture was made by our master and we could see every detail of this sculpture. The sculpture was cast using the traditional lost wax method and our process was very precise. The sculpture could be placed in an outdoor garden, art gallery, or horse farm.
On 24 October 2013, history was created when Nagambie became home to the life-size bronze statue of the world-famous mare Black Caviar. Black Caviar was born on 18 August 2006 at Gilgai Farm in Nagambie, Victoria. The champion mare then went on to become the fastest horse in the world, undefeated in every race. On 17 April 2013, it was announced that Black Caviar retired from racing. Sculptor Mitch Mitchell created the work in his Richmond studio from a photo of Luke Nolen riding the wonder horse home in the Schweppes Stakes at Moonee Valley in October 2011.
Our Technology      
Make clay film; all of our bronze sculptures are to make clay film in advance and strictly according to the ratio of 1:1.
Turn over the mold; simple modeling could be turned with plaster, complex modeling with silicone to turn.
Waxing; after turning the mold, pour the melted wax into the plaster mold or silicone mold, and wait for the wax to cool. After disassembling the mold, line up the wax mold.
Make the shell; wrap the wax model with quartz sand layer by layer.
Casting; (lost wax method) put the wax mold into the heat-resistant mold, burn the paraffin wax inside the shell by high temperature, then pour copper water into the quartz sand. Shell, cool, shape.
Sanding, splicing, welding seam treatment.
Coloring, oiling, and sealing wax.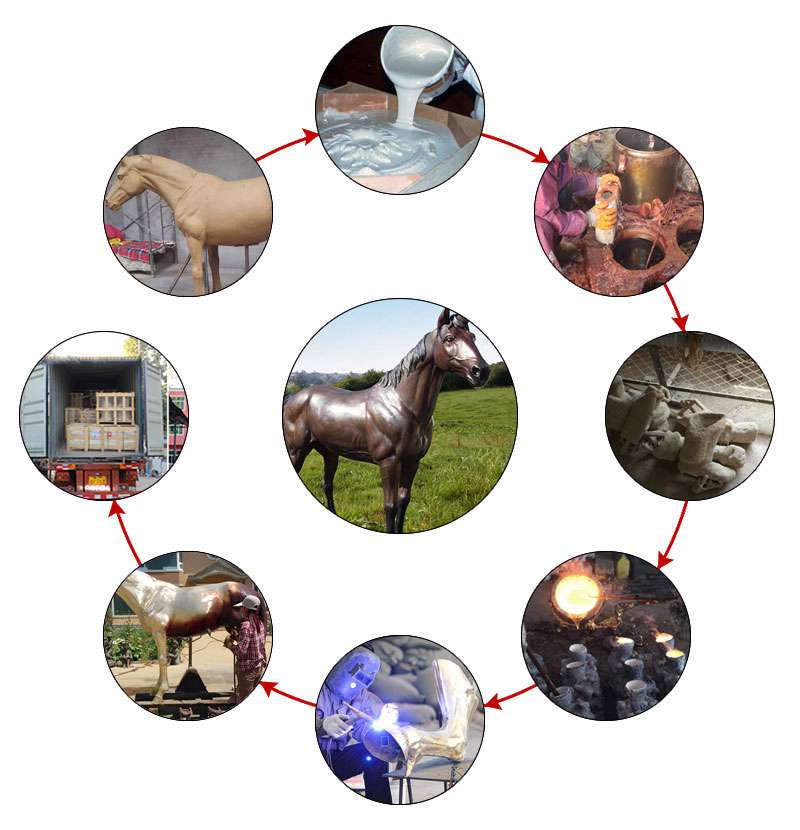 Company Profile
You Fine Art Sculpture has thousands of Bronze Black Horse Sculpture. We have our own production factory, so we could customize the size and style according to customer requirements. We have completed many large indoor and outdoor bronze garden statues, including Western statues, classical statues, children statues, various wild animal statues, water sculptures, and busts. Our factory has many years of experience in the production of bronze statues. We have a professional design team and production team to ensure that we provide you with high-quality products.
We also have a wide variety of Bronze Animal Sculptures, feel free to contact us if you would like a bronze animal sculpture for decoration.