Bronze Grazing Horse Garden Statue Details:
Very beautiful life-size bronze grazing horse garden statue design. This exquisite bronze statue depicts a tame horse with his head facing the ground, preparing to graze on the grass. The statue makes the details of the horse very lifelike and vivid. If viewing this horse from a distance, you might think that it is a real horse standing on the grass. It is a good choice whether it is placed in the garden of your own home or in the outdoor park.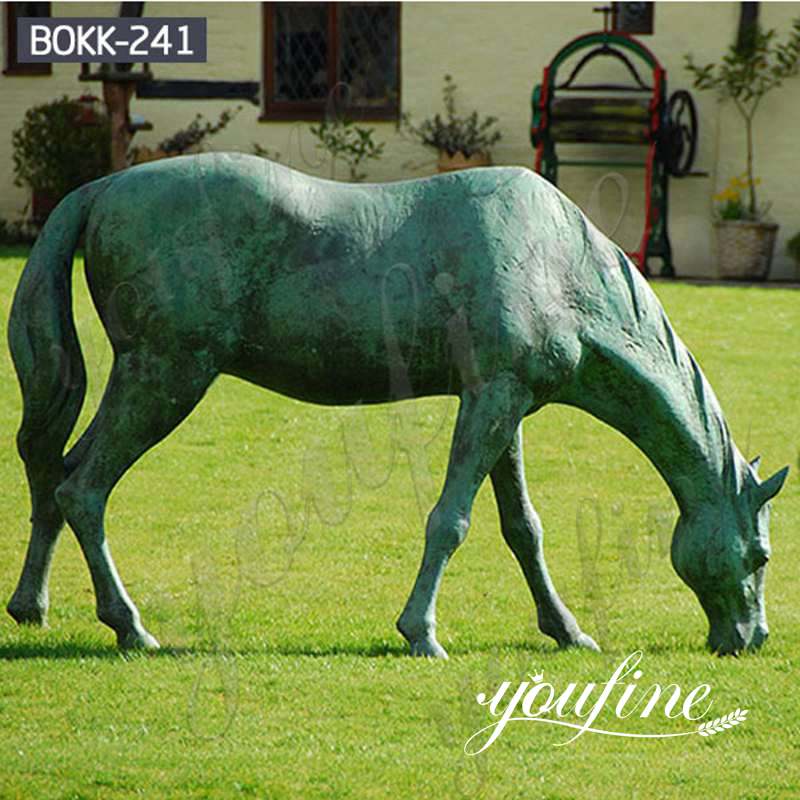 You Fine Uses High-Quality Materials:
This handsome bronze grazing horse statue will be made of high-quality bronze metal materials. Among them, the content of bronze will reach 88% or more. You may have questions, why not use 100% bronze material. Because to ensure the fluidity of the bronze statue in the production process and the firmness of the final statue, other metal materials must be added to achieve it. In addition, the average thickness of our bronze statues is between 5-8 mm.
You Fine Uses Lost Wax Method
In addition to using high-quality raw materials, we will also use the traditional lost wax method to cast this bronze grazing horse garden statue. So it could highly restore every detail of the horse. And, we also have professional craftsmen who are very skilled in the casting process. And in the process of welding, polishing, and coloring the final sculpture, all are hand-made by our professional craftsmen.
More Bronze Horse Statues Designs:
As a professional bronze factory, You Fine Bronze Foundry has a series of bronze horse sculpture designs for you to choose from. Such as life-size bronze running horse, bronze standing horse, bronze jumping house, bronze flying horse, bronze horse with warrior, Chariot, etc.
As a horse lover, you must want to place a beautiful bronze grazing horse statue in your garden. If you are interested in our statues, please feel free to contact us, You Fine can offer you a discount of up to 20%.